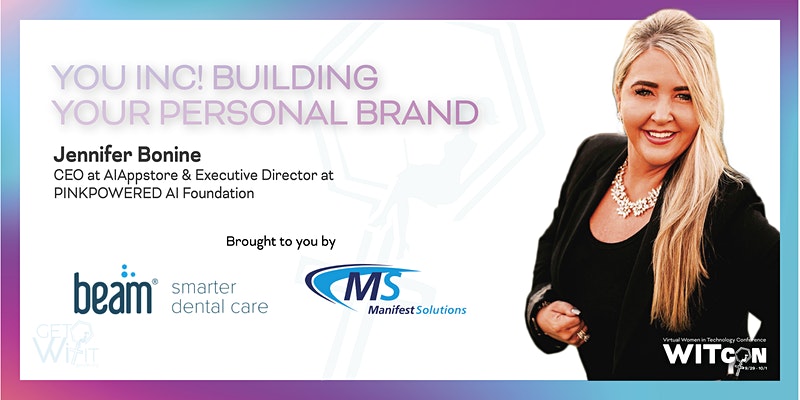 Featuring: Jennifer Bonine
Event Sponsor: Mesanift and Beam
Register Here & Get Additional Information – CLICK HERE
Date And Time
Wed, January 27, 2021
11:00 AM – 12:00 PM CST
Online Event
SUMMARY:
Building the right personal brand is one of the critical success factors in today's workplace. Organizations develop a brand and image, but not many individuals think about their personal brand and how it can affect their career. As we interact with people, we want to influence them to support our efforts—approving projects, budgets, and funding; supporting our next career move; or recommending us for that promotion or raise we want. As a professional, it is critical to understand how you are being perceived by your "target audience." During this interactive session Jennifer shares ideas on building your brand, mastering politics, reading your colleagues' and bosses' perspectives—all techniques that get the results you want. She presents a toolkit for creating your personal brand, changing perceptions in the organization to ensure successful interactions with others, and improving your ability to achieve your career goals. Any professional with career aspirations should be actively shaping her brand and career. Leave this session with a clear idea of your brand, how to continually re-invent that brand as your career and aspirations evolve, a start on your personal brand statement, and tips for networking effectively to promote your brand.
BIO:
Jennifer Bonine is the CEO of AI Appstore, Inc., and was the first female Artificial Intelligence ("AI") platform tech CEO. AI Appstore specializes in custom subscription technology bundles, leveraging an intelligent platform using a personalized 'virtual research assistant' to enhance corporate growth. The company exceeds expectations of integration, testing, delivery, and management with a groundbreaking business model that is fully engaged in the sustainable development goals ("SDGs") cultivated by the United Nations.
Respected as a gifted speaker, entrepreneur, and philanthropist, Jennifer Bonine addresses the AI industry nationally and internationally, most recently at the World Economic Forum in Davos and for CNNMoney Switzerland. She has held executive level positions leading teams for Oracle and Target and is a founding board member of the United States bid for a Minnesota World Expo 2027. Jennifer is a 2020 Minneapolis St. Paul Business Journal Women in Business honoree, a founding sponsor and member of IVOW AI's Women in History Data Ideation Challenge, and an executive board member of Chad Greenway's Lead the Way foundation. She is a member of Million Dollar Women, member and mentor for TeamWomen, and a council member of DreamTank, an organization designed to champion young entrepreneurs. Recently named one of the Top 30 Leaders to Watch in 2020 by Silicon Review, Jennifer Bonine was featured at the UN's AI for Good summit. Jennifer is also developing a series of books to educate children about the power of AI and machine learning.